Welcome to Pickerel Bay Lodge Campground
Pickerel Bay will have sites available for the 2024 season!!
Click here to view availability on our site map!
Thank you for choosing Pickerel Bay Lodge trailer sites in White Lake as a summer home for your family. The Pickerel Bay Lodge campground is a diverse collection of old and young, families and friends.  We look forward to you joining our little community.
Trailer Sites in White Lake, Ontario
Pickerel Bay Lodge (PBL) Campground is a small, quaint park with only seasonal campsites. All sites are within easy walking distance to common showers and washrooms, laundry facilities and of coarse …..the lake.
2024 Seasonal rate includes: septic, water, garbage and parking for one vehicle.
Sites will have hydro meters and bills will be issued twice per year for electric usage. This will be done July 31st and October 31st of each season.
Rates are set up for 1 or 2 "designated adults" with up to 4 of their own dependent children under the age of 19. Each additional family member will be charged the guest rate.
For further inquiries – email pickerelbay@hotmail.com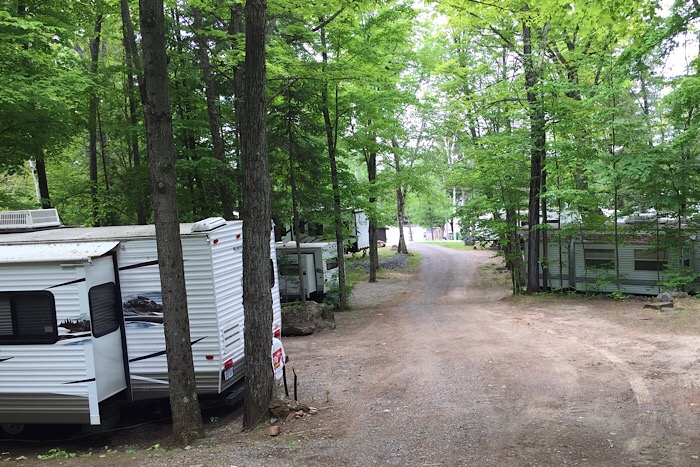 2024 Campground Rates
| | |
| --- | --- |
| Fully Serviced Sites | |
| Recreational Trailer use | $3600.00+HST |
| Residential Trailer use | $3975.00+HST |
| Additional Charges Seasonal | Charge |
| Boat slip (includes use of launch) | $610.00 + HST |
| Season pass (grandchild (1 - 12 yrs) | $97.00 + HST |
| Separate tent, shelter or gazebo | $80.00 + HST |
| Locker | $80.00 + HST |
| Extra vehicle parking | $75.00 + HST |
| Winter boat & trailer outdoor storage | $179.00 + HST |
| EXTRA CHARGES | |
| Extra vehicle parking | $5.00 / date |
| Visitor accompanied by trailer owner | $5.00 / date |
| Visitor - without trailer owner | $10.00 / date |
| | |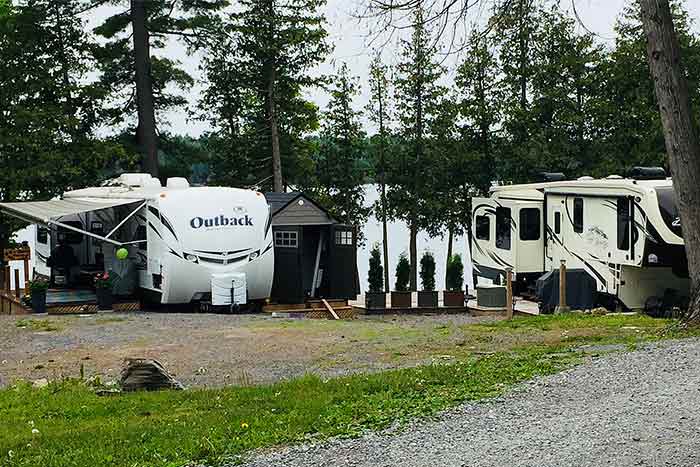 2024 Waterfront Rates
Trailer site - Waterfront
$5200.00 + HST
Additional Charges Seasonal
Charge
Boat Docks (includes use of launch)
1 boat/dock
$685.00 + HST
Season pass (grandchild 1-12 yrs)
$97.00 + HST
Separate tent, shelter or gazebo
$80.00 + HST
Locker
$80.00 + HST
Extra vehicle parking
$75.00 + HST
Winter boat & trailer outdoor storage
$179.00 + HST
EXTRA CHARGES
Extra vehicle parking
$5.00 / date
Visitor accompanied by trailer owner
$5.00 / date
Visitor - without trailer owner
$10 / date
Campground Rules
Trailer Sites
Leveled sites will accommodate your trailer and parking for one vehicle.  All trailer sites will be set up with water and a holding tank.  Items such as decks, fire pits, and picnic tables are not included.  There is no additional charge for decks or screened add-ons but please advise us prior to making any additions.  Extra charges apply for free standing screen rooms or shelters.
****A $1000.00 slab fee is required to build new structures ie decks, sheds or when a site with such items is purchased. This refundable deposit will be returned when the site is vacated and all structures are removed. This includes any plastic, metal, wood, cinder blocks, bricks etc. ****
Storage sheds are permitted but limited to one per trailer.
Trailer Occupancy
Rates for trailer sites are based on 1 or 2 "designated adults" -from the same household-with up to 4 of their own dependent children under the age of 19.  Season's passes are available for families with more than 4 dependent children or for grandchildren.  These passes cannot be used for guests.  Guests are welcome, but charges will apply for your guests and their vehicles.
Trailer Requirements
New trailers coming into PBL campground must be 10 years old or newer, older trailers maybe allowed at the discretion of PBL.   PBL reserves the right to restrict new trailers based on age, size or type.  Anyone wishing to sell their trailer while at Pickerel Bay must continue to pay all fees.  Pickerel Bay will charge 8% for trailers sold on site.  All sales must be approved by Pickerel Bay.  Here is checklist of items to consider prior to selling your trailer on-site.
Hydro
Each campsite will have its own individual hydro meter.  A deposit of $200 will be required for each meter and shall be returned when the campsite is vacated. A bill will be issued twice per year for electric usage. This will be done July 31st and October  31st of each season.
Insurance
Personal Liability Insurance is required by all seasonal guests.  Pickerel Bay Lodge and its owners are not liable, nor responsible to carry insurance coverage on campers unit, vehicle, or other personal property.  Camper are required to carry his/her own liability insurance, while comprehensive is recommended. Proof of insurance will be required prior to occupying your trailer.  Insurance company and policy # will be satisfactory.
Trailer Maintenance
While we appreciate trailers being well maintained, we ask that no major projects be tackled during our peak season- July and August and that no noisy work done on Sundays throughout the season. Your neighbors would appreciate your cooperation.
Due to potential water shortages, we also ask that no trailers be washed during peak season – July 1st –Sept 1st  with well water.  Campers are free to use lake water for trailer cleaning during these months.
Water Usage / Septic
Each trailer will be hooked up to water from the well.  This water is tested weekly.
Pickerel Bay is on a septic system.
Please do not pour grease, oil, coffee grounds, or household chemicals down the sinks. Flush only human waste and small amounts of toilet paper. Do not flush hygiene products, paper towels or bagged dog waste
Showers / Washrooms etc.
Showers are available in the men's and women's washrooms.  Showers cost $1.00 each.  This fee is not included in your basic trailer fee.  Use of the showers is on the honor system reporting can be done by email or text. When using the common shower house, please clean up after yourself.  Coin-automated laundry machines are available in the main shower house. 
Boat Storage
Trailer owners can pay for boat storage either on the property or using a boat slip.  Trailer owners will not be charged to launch their own boat, but PBL will charge for each launch that we are asked to do.
Garbage
Trailer owners are responsible for transporting their own garbage to the dumpster in the parking lot.
Please remember garbage bins and dumpsters are for household food waste only.
**** Do Not dispose large items such as fridges, lawn chairs, fans, lights etc.  Take these items home or ask at the office for local dump hours.

Pets
PBL will be taking a pause from allowing dogs for "new guests" to achieve some balance for our small park. Please ask your guests to leave their pets at home!
For guests in the park prior to the 2023 season……guests are limited to one "large breed" dog per site. We insist that owners keep their pets quiet, under control and on a leash at all times. Pets are allowed swimming at the boat launch area but not at the beach. Please clean up after your pets.
PBL Beach
PBL beach is for the use of all campers.  The beach is unsupervised so customers – swim at your own risk.  Please do not leave your young children or those of your guests at the swimming area unattended.  Campers are welcome to use the chairs, tables, and toys at the beach area.  Although this beach is not open to the public, please do not leave anything at the beach not intended for use by others.
Noise
We ask that you respect your fellow campers and keep noise levels to a minimum.  TVs and radios should not to be heard past your campsite.  Please be mindful of yelling children and barking dogs.  Music is not allowed at the beach.
No work related noise is to be done on Sundays and major building projects must be stopped from July 1st to August 31st.
Guests
Guests are welcome at Pickerel Bay but guest charges do apply.
Please remind your guests about PBL rules.  If your guests have small children please do not leave unattended in washrooms or at the beach area.
Trailer Payment Schedule
Mail-outs will be sent out each fall with pricing information for the following season.   A $500.00 deposit is required to keep your site for the following summer and to confirm your return.  Campers not planning to return must remove their trailer by closing (Canadian Thanksgiving) or pay $500.00 for winter storage.  Trailers must then be removed by May 1st.  Anyone wishing to sell their trailer on site must continue to pay all fees.
Payment installments are required to be paid by the following dates:
1st  payment – $500 due September 1st
(Please add $100 for each boat slip)
2nd   payment – $500 due December 1st
3rd   payment – $500 due February 1st
Balance is due by May 1st
Winter storage fees are waived when trailer site leases are renewed.
Credit Card payments will be accepted by our American friends to eliminate currency exchange issues.  All Canadian payments are to be made by cheque, cash or email transfer.
Payments not received on the due dates will be subject to a charge of $150.00.
We recommend using post dated cheques or e-transfers.
All deposits / payments are non-refundable!
---
Please view our 2024 lease agreement
For your convenience we ask that a copy of your key with us.  PBL is not responsible for any damaged or stolen property.  Please lock your trailer when away.
ENJOY YOUR SEASON